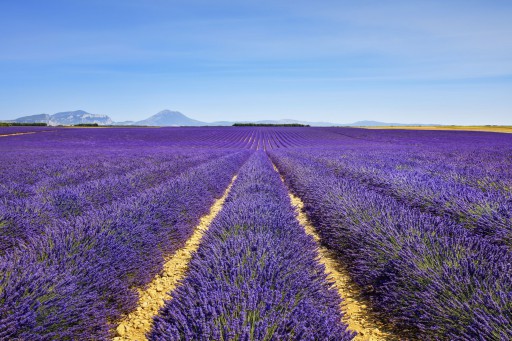 Summer In Europe Means…
For me, summer in Europe means two things Le Tour de France and the Lavender harvest.
As Le Tour pushes off from Mont-Saint-Michel the harvest season begins in Bulgaria where a large proportion of the world's Organic Lavender is distilled during the month of July. A labour intensive process occurs in a region approximately 200km from the capital Sofia in an area which is also well known for its rose production. With its distinctive, strong and assertive character, Bulgarian Lavender Oil offers a consistent aromatic profile ideally suited to both perfumery and organic cosmetic products. As summer progresses into August our focus shifts to France and Spain, where harvests begin and continue throughout August.
France is renowned for the production of Fine Lavender (Lavandula angustifolia). In the key growing regions of Alpes de Haute-Provence, the Drôme and the Vaucluse, Lavender is cultivated between the altitudes of 600 and 1400m.  The Lavender fields are identified by a variety of colours and inconsistent flower spikes that are quite distinctive when compared to the uniform colour and long stems of a Lavandin field. Common names such as Popular, Maillette and Alpine are used to describe varieties of French Lavender Oils that are used primarily in fine perfumery and aromatherapy.
In the Spanish regions of Guadalajara, Navarra, Cuenca and Albacete, production is mainly focused on the Lavandin (Lavandula x latifolia) species, commonly known as Grosso, Super and Abrial. While these varieties of Lavandin are characteristically more camphoraceous in aroma they still have a valuable place in a wide range of fragrance applications.
We maintain intimate relationships with a very small number of distillers in Bulgaria, France and Spain allowing us to deliver essential oils of the highest quality. Supported by our in-house analytical facilities that include Chiral GCMS we provide a guarantee of authenticity and quality.
Below is an overview of European Lavender and Lavandin Oils we have available each season and we look forward to hearing from you soon to discuss your requirements.
Lavender Oil, Bulgarian
Lavender Oil, French Maillette
Lavender Oil, French Popular
Lavandin Oil, French Grosso
Lavandin Oil, French Super
Lavandin Oil, French Abrial
Lavandin Oil, Spanish Grosso
Lavandin Oil, Spanish Super
Lavandin Oil, Spanish Abrial
Lavender Oil BP